>>Click Here for Bag Making Class Dates
Description:
This sewing course is for everyone who would like to learn how to design and make beautiful and original cushions.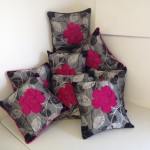 We will show you what you can do, what fabrics to use and how to combine them to introduce some creativity to your interiors.
You will learn how to:
Make a Designer cushion
Embellish using different techniques
Insert zip
Make piping
Insert piping
All materials and equipment will be provided.
Lunch included.
By end of course:

You w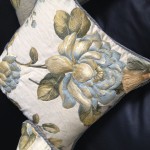 ill have learned the skills to make a cushion and will have made a designer stuffed piped cushion.
Duration and time and Dates:

This is a one-day course, a total of 6 hours:
Session 1 Saturday morning 10am to 1pm
Session 2 Saturday afternoon 1.30pm to 4.30pm
>>Click Here for Cushion Making Course Dates
To Book  (call 087 953 68 18)