October 14, 2011 in DIY, Ideas, Tutorials
Seven great ideas how to make your Halloween Decorations. They are all bringing you to the original diy Halloween decorating tutorials.
1. Glossy black cats made of pumpkins
A great tutorial how to create a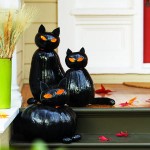 spooky trio of glossy black cats to watch over trick-or-treaters at your door. All you need are a few pumpkins in feline shapes ― long or pear-shaped for the  body, small and round for the face.
At the pumpkin patch, look for body shapes with character and a stable base. They can lean to one side (like a cat on its haunches) but shouldn't wobble.
Choose a tall one for an elegant cat, or a squat orange heirloom for a chubby cat curled on its paws. Test a few "heads" until you find a good match.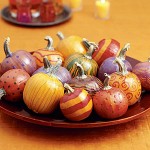 Get a jump-start on holiday decorating with these shimmery miniature pumpkins. Tiny pumpkins ― or any small gourds ― can be colored in minutes with acrylic paints or permanent markers. The secret to their jewel-like sparkle is a finishing glaze applied after the paint or ink has thoroughly dried.
Show off a traditional Halloween message in a highly unusual way.
Jackie Ortega, owner of San Francisco's Craft Gym, says this project is easy to pull off once you know the secret.
Start by printing out "trick" and "treat" in bold letters on paper to use as a stencil. Center "treat" on your pumpkin and use a pushpin to dot the outline of the letters, then scoop out the pumpkin and carve between the dots (use toothpicks to hold centers of "e" and "a").
These DIY glowing globes and lighted tree turn your entry into a delightfully spooky pathway to Halloween treats.
Light a path to your door with glowing lanterns, lighted trees, and swaying ghosts.

Invert a glass globe that normally goes over an electric ceiling light fixture, tuck a tea light inside, and you've got a holiday lantern. Choose a globe that fits over the porch light and you can greet trick-or-treaters in an orange glow.
Take your haunted house to the next dimension with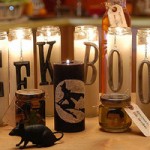 custom candles and specimen jars bubbling with eerie fun.
You wil need the following materials and tools:
pillar or taper candles
Candle DecoPaint (by Marvy Uchida)
ultra-fine glitter
manila folder
Add twinkle to your fall nights with these magical pumpkin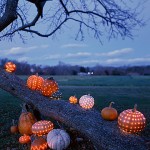 lanterns. Instead of carving traditional faces, drill tiny holes into each pumpkin. Use strings of tiny white lights to illuminate the pumpkins, creating star-studded globes sure to delight any ghost or goblin. Turn a pumpkin on its side, and use a knife to carve out a circular opening in the bottom. Make the opening large enough so your hand can fit comfortably through it. Drill holes using a 1/4-inch bit; use tape as a guide for a uniform pattern, or make randomly spaced holes and insert a string of lights through the bottom.
7. Cheesecloth Ghosts
Layers of starched cheesecloth give these little specters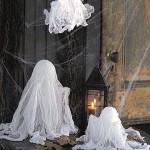 their haunting postures.
Build a mold for the body first. Cut several 1/2-inch-deep slits into one end of a cardboard cylinder, such as paper-towel tube; fan flaps out and tape to work surface so tube stands upright.
Cut cheesecloth into strips (about six per ghost). Saturate the strips in liquid starch and drape over mold in various directions to cover completely. When cheesecloth dries, carefully lift ghost off mold.